INSERT: 25 APRIL 1990
EXTRACT: 20 MARCH 2020
PERSONAL ACCOUNT FROM A FORMER TEAMMATE RYAN INNIS
Dan was a man of integrity, a giant guy with spirit and passion. He was full of motivation. I remember after all the guys went out to have some fun Friday evenings, Saturday morning, he was the first and often only guy to drag himself out of bed to run a few miles before anyone else was even awake. He was never afraid of anything, especially a good ass whoopin workout. His intelligence led him to be the person that when he opened his mouth to speak, people always shut up to listen. Even though he had such a physically dominate presence, he was very humble, he had a deep compassion for people and would always go out of his way to help. Dan was an amazing friend, trusted comrade, and an honorable man. Thank you Dan for your profound impact on me. You will be greatly missed forever.
I'd like to end with a quote from a song that impacted me in these difficult times.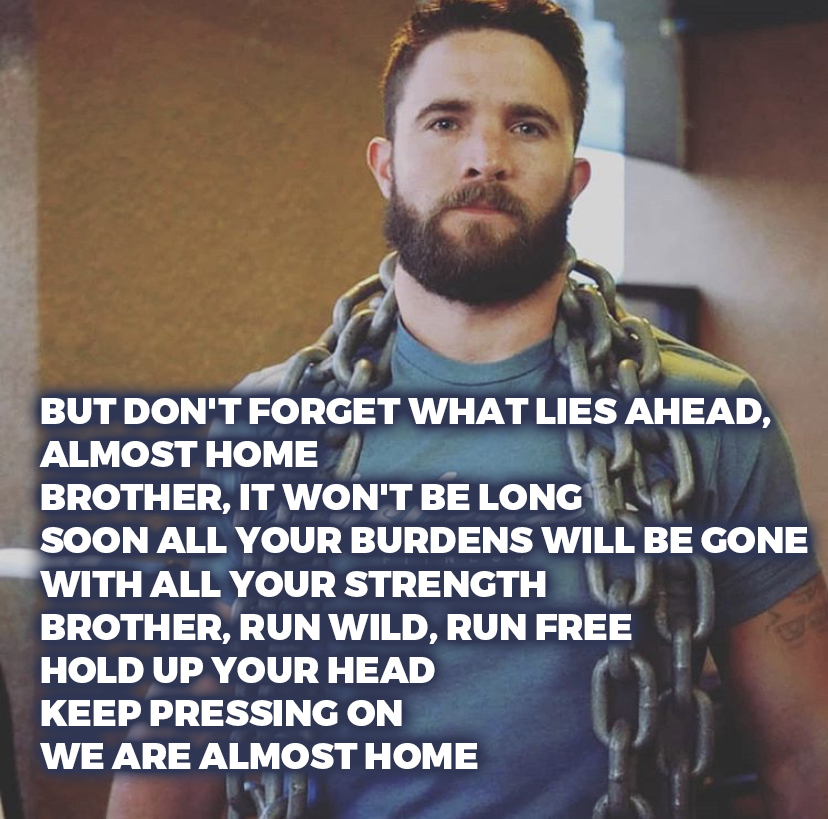 Daniel Christopher Newell passed away peacefully at home with his loving family by his side on March 20th, 2020.
Daniel was born on April 25, 1990 in New London, Connecticut. He was raised in the Montville Connecticut area in a military family. His dad, Chris, was a Navy Submariner and when he went underway, Dan, his sister Martha, and his brother Ben would go to the shores of the Thames River to wave goodbye. They got a wriggle of the periscope in response.
Dan graduated from Montville High School with honors in 2008. Along the way he made many friends including Mike, Brennen, Paul, Josh, Jake, Jerry and Nick and stayed part of a close group. To all who knew him he was a tall goofy kid, but when he put on ice skates it was like watching a different person. Graceful and talented, he had followed in his grandfather's, father's and brother's footsteps playing ice hockey. He loved the sport.
After graduating from high school, Dan attended the University of Connecticut for a short time until he made the decision to join the United States Marine Corps. Dan didn't want to just be any Marine, he wanted to be a part of one of the Marine's most elite specialty occupations. He chose to become a Recon Marine. Forming life-long bonds with this second family, his team members became his brothers for life. During Dan's time in the Marines, he went on an 11 month surge deployment in 2011 aboard a ship as a Visit, Board, Search, and Seizure detachment to fight piracy around the African coast.
After his first deployment with Charlie Company, 2D Reconnaissance Battalion, Dan transitioned to Bravo Company within the battalion and went on a Special Purpose MAGTAF to Spain in 2013. Shortly after returning from his second deployment, Dan was back to rigorous training to include Military Freefall Parachutist School, Combat Dive School and advanced training that would get him ready for his third ship deployment which was with 2D Force Reconnaissance Company in 2015. Returning from this deployment as a seasoned Recon Marine, Dan went to Camp Pendleton, California and became an instructor at the Basic Reconnaissance Course from 2017-2019. Daniel reached the rank of Staff Sergeant during his service.
While in the Marines Dan also met and married his wife, Chelsea Sweeney. Living in North Carolina they became parents to their son Everett and a couple of years later, moved to the San Diego area where they had a second son, Calvin.
Dan had recently returned to Connecticut to make plans for his life when it was tragically cut short. He will live on through all the lives he has touched. This gentle giant of a man, with a huge heart, will be greatly missed.
– Semper Fi Dan
Daniel is survived by his wife Chelsea and their two sons, Everett and Calvin, his parents Chris and Lisa (Tice) Newell, his sister Martha, her husband Brian and their son Nathaniel, his brother Ben, his wife Vanessa and their son Henry. He is also survived by his grandmothers, Martha Thrasher and Nancy Tice. He is predeceased by grandparents Charles Newell, Eugene Tice and Joan Clark. He also leaves behind aunts, uncles and cousins from both sides of his family and many others who hold him close to their hearts.
SOME OF DAN'S FAVORITE SAYINGS
"You guys wanna go sky jumpin?"
"You wanna go to second dinner?"
"Baby…. baby. It's a boy."
MEMORIES AND ENCOURAGEMENT
Margo Murphy – Ben, Vanessa and family – our hearts are with you. We hope that all of your memories with Dan are bringing you some comfort & hopefully a smile. Sending you all of our love!!!
Michael Thoman – In honor of my best friend Dan.
Krista Eschelman- ♥️️
Annette Jervasi – All my love to you Newell's.
Patrick Ehman – We are both very sorry for your loss. Your family is in our thoughts and prayers
Liesa Balfour – Love you guys!!! Nice work getting all this together.
Anne Kelly – Dear Martha: It is an honor to make a donation to SalvageUSA on behalf of your dear brother, Dan. It sound like he was a proud US soldier and family man who will be deeply missed by all those who knew him. We are thinking of you and holding you in our hearts. With love, Anne, Ryan and your policy team colleagues.
George Lewis – My deepest condolences to Dan's family and friends. Son, brother, husband, father, uncle, soldier and friend taken far too soon but whose spirit and legacy will shine bright eternally.
Gabrielle Tassone – In honor of Dan's memory; to know him was to love him.
Seamus Cypher – ??
Katie Stewart – Love you guys! Keep up the awesome work for our vets! SEE YOU IN JUNE!
Kristen Nicholl – I think it's great you are doing this, Nick. I'm so sorry for your losses. xo to you & Denise!
Cynthia Larson – This is a great cause and one i am happy to contribute to! Thank you for reaching out!
Michael Bodrog – I love you Dan, it was my greatest honor to work by your side.
Amie Shepard – In memory of Dan Newell
Amanda Marshall – ❤️
Owen Andrew – For Dan
Gregory Martinez DVM – Thank you for addressing this great need. What you and other people have gone through is largely ignored. Myself and my family suffers from depression, anxiety, and addiction problems. Many service people end up homeless and have to struggle with these terrible issues on their own. Thank you for trying to help!
Dianne Daniels – Rest well, Daniel – your UUCN Family and the Daniels Family will never forget you.
Darlene Allen – Rest In Peace, Dan ❤️??
Ariana Woody – Rest In Paradise Friend…you are loved and missed always. My heart goes out to the Newell Family & Friends…we will always have RE times together! #heavensentheavenreturned
Betsy Gregory – I love you Dan
Terry Posey – In memory of a great person and a great Marine Daniel Newell
Judith Dudley – Daniel will always remain in our hearts
Susan Hamil – Dan remains in our hearts. Sending our love. Love, The Hamils
Kevin Starbird – Rest In Peace big Dan you are a true American Hero
Colton Craig – Keeping you in my thoughts and prayers. Hockey brotherhood forever
Ryan Ingram – Condolences from Ingram family to yours you will be in our thoughts and prayers
Jolanta Nowakowski – Dear friends, my deepest sympathy on your loss. I'm so sorry…much love Jola N
Beth Schapira – In memory of Dan Newell
Ethel Krasney – Sending prayers for strength for you all. The Krasneys
Rebecca Gibson – I love you Martha and I am so sorry for your loss. Dan seemed like an incredible man.
Chris Moon – For Dan and family.
Nik Alevras – HONOR AND REMEMBER
Ryan Martel – From the Ceres team
Mel Mackin – In honor of ANIEL "BIG DAN" NEWELL
Mary Ann Ormond – Wishing you comfort and peace always